Energy Performance Certificates (EPCs)
The Energy Performance of Buildings Directive (EPBD) applies to all domestic, commercial and public buildings marketed for sale or rent in England and Wales. It is the Landlord's responsibility to provide a valid certificate for rented properties to prospective tenants at the earliest opportunity. For more information visit www.communities.gov.uk/epc
Energy Performance Certificates will grade the energy efficiency and environmental impact of your home. An Energy Performance Certificate (EPC) shows prospective building owners or tenants the current energy performance rating of a building and the potential performance if energy efficiency measures are implemented. Ratings are on an A-G scale, based on a benchmark measure of similar buildings and include a potential rating that the building could achieve if improved. The EPC provides an energy rating, called an Asset Rating for a building based on the performance of its fabric and the services installed.
The rating is displayed as below: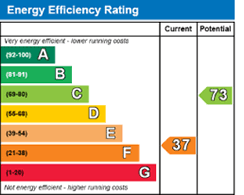 The average residential property in the United Kingdom falls within bands D and E for both ratings. The Energy Performance Certificate will include recommendations on ways to improve the energy efficiency which saves money and helps the environment. This benefits both buyers and sellers as it makes the property more attractive to potential buyers and provides recommendations to reduce fuel bills by improving the energy efficiency of the property.
If required the Energy Performance Certificate can be incorporated into a Domestic Property Energy Report. This report is useful as it contains additional information explaining the reasoning and methodology behind the EPC and it includes fact sheets relating to energy usage and renewable energy etc.